October 17, 2017, Spain |
Taibilla's Canals Community renews its confidence on OFITECO for its SCADA control centre operation
OFITECO in a joint venture has been awarded with the remote management system for water distribution for 1 year (extendable for two).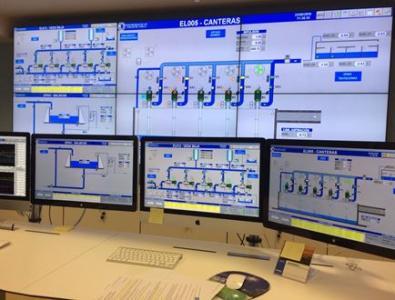 OFITECO will operate the management system and remote control of Taibilla's Canals Community.
This contract indicates the client's confidence and trust in OFITECO for the operation of its SCADA and control centre, which has already been completed by OFITECO over the last two years.

The control centre in the water supply network is the neuralgic centre for the optimisation of scarce water resources in the region. Their distribution network is the object of constant surveillance, control and evaluation.
The main work is the water infrastructure operation and remote control from the control centre, 24 hours a day, all year round. This permanent uninterrupted surveillance allows for real-time intervention of events/incidents that may arise.
The Community's hydraulic infrastructure is located in provinces such as Albacete, Murcia and Alicante. Among its infrastructure is worth mentioning 6 water treatment plants, 8 desalination plants, a series of reservoirs and large elevations, as well as a very important network of channels, which ensures the water distribution.
This new contract expands OFITECO's water infrastructure experience in conservation, maintenance and operation and strengthens its position as provider of Taibilla's Channels Community.