April 25, 2018, Kununurra, WA, Australia |
OFITECO takes part at ANCOLD Dam Operators 2018 Forum
OFITECO showcased its experience with the remote management of automated data acquisition systems at the main event for dam operators in Australia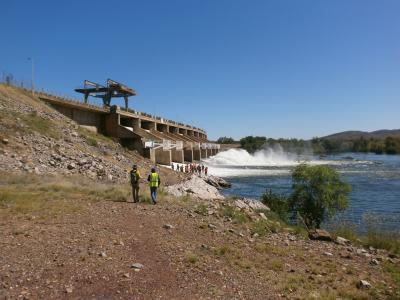 Dam operators have met this year in Kununurra, Western Australia, at ANCOLD's Operators Forum, in order to share experiences and stay up to date in technology, organisation and operating culture. This edition's theme is "Modern Challenges in Dam Operations". The program, with speakers from the main Australian water organisations, was focused on dam operations considering the isolation, extreme events and communications challenges that many owners face. The program included a visit to Ord River Dam and Kununurra Diversion Dam.
During the forum, OFITECO gave a presentation on the subject of "Convergence of Acquisition Technologies in Dam Monitoring – Innovation to facilitate their use by dam operators". We shared our experience with the use of TCP/IP-enabled data loggers and PLCs for data acquisition, which allows remote operation and configuration from our DamData monitoring management system. We included a case study of these capabilities from one of our recent contracts.
Participation in international forums is a major priority for OFITECO, establishing the company as a reference in dam safety.
( Photo courtesy of Arinex, photographer: Ben Broad)