April 06, 2016, Tlemcen, Algeria |
OFITECO continues working in the rehabilitation study of the singular Meffrouch dam (Algeria)
OFITECO provides highly specialised consulting solutions to the Algeria's Nacional Agency of Dams and water transfers in order to recover and ensure the safety level of the Meffrouch dam.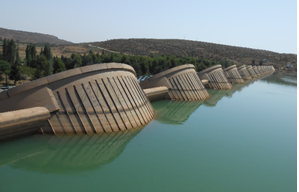 OFITECO was the Company selected by the Algeria's National Agency of Dams to undergo the rehabilitation study of the Meffrouch dam. The works started on May 2015 and are underway.
Meffrouch is an especially interesting project because of its structural singularities. The typology is a multiple arch dam held by buttress, it has the unique quality of being built using prefabricated elements connected by prestressing steel.
OFITECO must develop a tailored solution that prevents the degradation of those cables from affecting the optimal performance of the super-structure.