October 16, 2015, Basauri, Vizcaya, Spain |
OFITECO has been selected by ADIF to draft the project for the entrance stretch to Bilbao, which belongs to the new railway network (Spain)
ADIF has again put its trust in OFITECO to draft a project of the Basauri – Cantalojas tunnel 5km stretch. It is especially important since it involves the underground entrance to the city centre (Abando station) from Vitoria, San Sebastián and Irún.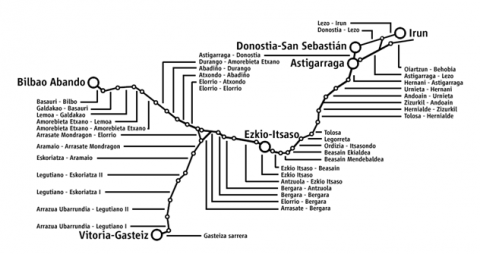 The stretch to be designed will pass along the Basauri, Arrigorriaga and Bilbao municipalities and its approximate length is 5km. It starts in the southern overpass of the Nervión river (Galdakao – Basauri stretch). And ends in the connection with the Cantalojas tunnel (Bilbao). The project includes railway platform, track actions, and electrification, signalling, safety and communication installations, including the deviations of the current track generated by the possible provisional situations.
The conditionings of the physical environment, and especially the urban ones (the stretch flows along Bilbao's metropolitan area, known as "Gran Bilbao") require the project to be carried out by a company with experience in the design of railway infrastructures such as OFITECO, which has demonstrated its creditworthiness and good work in previous contracts with ADIF.