April 06, 2016, Riyadh, Saudi Arabia |
OFITECO progresses in the monitoring of the Metro de Riyadh's Line 5 (Saudi Arabia)
OFITECO's wide knowledge about instrumentation of underground works, together with the advantage of working with a local partner, allow the consortium to fulfil the requirements of the contract signed with the FAST consortium.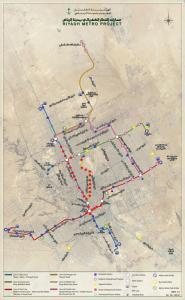 OFITECO offers monitoring and geotechnical instrumentation specialised services in underground works in the Metro de Riyahd's Line 5, which was awarded to the FAST consortium led by FCC, including Samsung, Alstom, Setec, Strukton, Freyssinet Saudi Arabia y Typsa.
The experience that OFITECO is gathering in Saudi Arabia, complements previous works for another Metros, and enables OFITECO to hold a strong position in this sector.