Automatic control systems using fibre-optic sensors of Deza and Anzo 2 viaducts in the North- Northwest High Speed Corridor. Subsection: Lalin (Anzo) - Silleda (Carboeiro), (Spain)
COMSA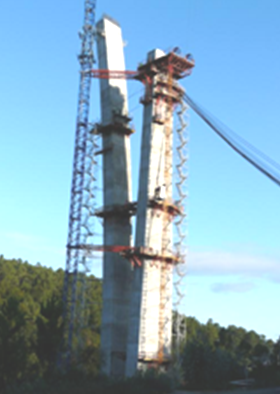 PURPOSE
The contract includes the installation and implementation of a control system on both viaducts.
Both Deza and Anzo 2 have an automatic system, developed by Ofiteco, for conducting checks during the construction phase. In addition, Deza will have instrumentation for monitoring whilst it is in operation. The majority of the instrumentation is based on fibre-optic sensors.
DESCRIPTION
There was automatic monitoring during the construction phase of both viaducts of the hydraulic launch system and inclination induced in the piers by the friction of the deck, so that any alarm supplied by the sensors automatically stopped the launch system. An automatic control system was devised which guaranteed safety during launching. The following parameters were defined for that purpose:
Longitudinal rotation on the head of each pier and nose, controlled by fibre-optic clinometers.
Deck movements, using encoder sensors.
Pressures in the hydraulic launch system using pressure transducers.
Wind speed and direction.
Thermal control by solar heating using fibre-optic thermometers.