Control and monitoring of the construction for the A-7 Mediterranean motorway. Almuñécar (Taramay) – Salobreña (Lobres) and connection with the A-44 motorway. Granada (Spain)
Ministry of Public Works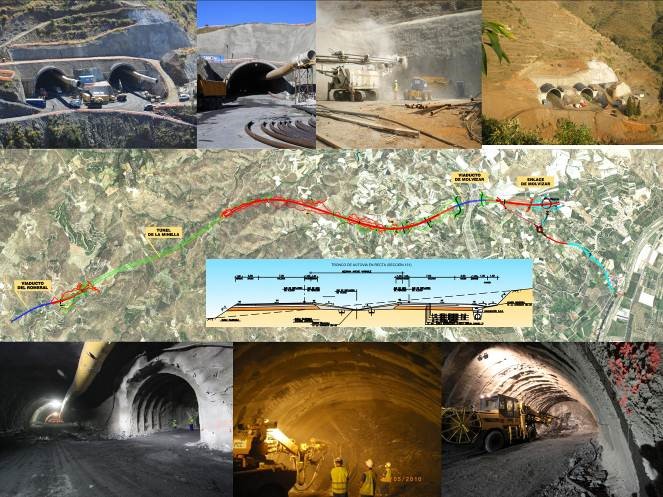 PURPOSE OF THE WORK
The following items are especially worthy of note among the control and monitoring tasks performed:
Analysis and proposal for possible improvements to the detail design, as well as the review of the solutions proposed by the construction company.
Verification to ensure that the project is properly defined and carried out, and preparation of reports on the progress of the construction.
Quality check on the materials received and used at the site (laboratory).

MAIN CHARACTERISTICS OF THE WORK
Main motorway section:
Total length: ............................................. 7,764 m
Design speed: ......................................... 80 km/h
Plan view radii
Minimum: .......................................... 1,000 m
Maximum: ......................................... 2,250 m
Maximum gradient: ........................................ 5 %
Maximum superelevation: ........................... 6.5 %
No. of interchanges: ........................................... 1
No. of carriageways: ........................................... 2
No. of lanes x lane width: ...................... 2 x 3.5 m
Width of inner/outer shoulder: .......... 1.0 / 2.5 m
Width of outer berms: ................................. 1.0 m
Width of central reserve: ........................ Variable