Expansion of the Madrid Metro 2003-2007. Extension of Line 7 and construction of Metro Este, from Las Musas to Coslada and San Fernando de Henares (Spain)
Comunidad Autónoma de Madrid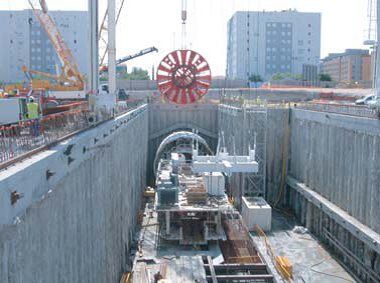 MAIN CHARACTERISTICS OF THE SECTIONS
• SECTION I: LAS MUSAS – M-40
Consists of two transitional sections between single and double tunnels, one straight tunnel section and one station, the largest in the Madrid Metro system. The total length is 1,080 metres, built using the cut-and-cover method.
• SECTION II: M-40 – COSLADA
Consists of a working shaft and two parallel tunnels, and one station. Each tunnel is 2,110 metres long, and they run under the RENFE train yard, the M-201 road and the M-40 orbital motorway.
• SECTION III: COSLADA – SAN FERNANDO DE HENARES
This is the most important stretch of the project, with a tunnel length of 4,870 metres and the construction of seven stations.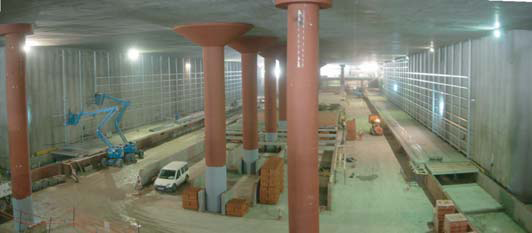 PURPOSE OF THE WORK
• Preparation of a plan for instrumental monitoring and control that is specific to the project.
• Preparation of a notarised inventory of the condition of the buildings that is near the site prior to construction.
• Installation of the instruments provided for in the instrumental monitoring plan, consisting of:
Superficial levelling landmarks

Levelling gauges on the facades of nearby buildings

Deep points of reference for levelling

Sets of three disks to monitor cracks

Rod extensometers

Inclinometers on diaphragm walls and in the ground

Convergence pins in the tunnel and stations

Anchor load cells

Vibrating wire piezometers

Clinometers to monitor wall inclinations
• Ongoing tracking of the instruments installed, adjusting the frequency to the monitoring needs of the construction at any given moment.
• Preparation of construction tracking reports.
• Noise and vibration control during construction.