May 12, 2017, Madrid, Spain |
OFITECO has been selected by the Ministry of Development for the design and project drafting of the A-1 Northern Highway in Madrid
With its expertise in studies and projects of linear works, OFITECO will contribute to the capacity expansion of the A-1 highway near Madrid.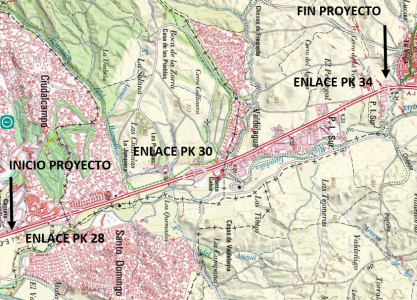 Due to the confluence of long-distance transit and agitation transit, there had been limited capacity on the A-1 highway, especially in the peri-urban area of Madrid. This required improvements in infrastructure, which have been solved with a third lane and service roads.
The current transit intensity in the link between the M-50 and San Agustín de Guadalix, is heavily unbalanced between the two roads at certain hours in the day and days of the week. This causes the level of service to drop to situations incompatible with the type of highway in question, which has a negative impact on safety.
OFITECO will be the company tasked with the drafting of the design and construction projects, specifically in the Race – San Agustín de Guadalix link (kilometer points 28,100 to 34,000), including a series of actions to simplify the previous design, with an important preliminary reduction, both in the execution budget and in the expropriated area needed. These new approaches are mainly focused on the functionality given to the future side roads, parallel to the main highway.
The main actions in this section are:
Widening of the main carriageways in order to obtain a third lane in each of them, between the kilometer points 28,100 and 34,000 in the A-1 highway.

Execution of lateral tracks, parallel to the main carriageways, functioning as collector roads between kilometer points 28,1000 to 34,000.

Construction of a new overpass in the RACE link crossing the carriageway in the kilometer point 28,400.

Construction of three pedestrian walkways and conditioning of bus stops.
This award to OFITECO substantiates and extends its wide expertise as a designer of linear projects.