July 21, 2022, Rome, Italy |
OFITECO has been present at the 8th edition of the International Course on ‎Geotechnical and Structural Monitoring, in Rome. ‎
Organized by NHAZCA (Natural Hazards Control and Assessment) and the University of Rome, it is one of the most important professional trainings in the auscultation sector at an international level.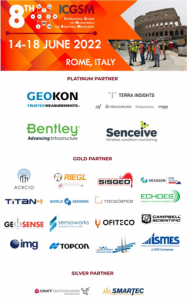 OFITECO has presented a stand at this presential edition focused on the analysis of the different monitoring methodologies applied to existing infrastructures, all with the aim of validating their design, improving knowledge of their structural response in each operational phase and optimizing maintenance programs to ensure safety.
The program has covered a variety of topics ranging from the design of the monitoring plan and the problems related to the implementation of monitoring systems to specific problems. The latest and potential solutions for various monitoring applications have been addressed, such as: monitoring of heritage monuments, railways, bridges, tunnels, landslide control and surveillance of infrastructures related to the exploitation of natural resources such as dams, mines and oil and gas.
Through these events, OFITECO shows its constant interest in the latest technologies applied to geotechnical and structural monitoring, guaranteeing its updating and consolidating its network of collaborators on an international level.