TUNNELDATA
TUNNELDATA: Integrated monitoring data management system for underground works, focused on urban environments.
The objective of the TUNNELDATA project is the development of an innovative integrated data management system (acquisition, storage, control and visualisation) for the monitoring of underground works and their urban surroundings.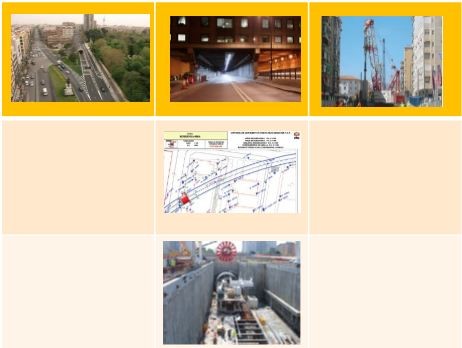 TUNNELDATA project intends to streamline decision-making through immediate data correction and treatment with an engineering approach, allowing to improve the analysis of data acquired on site.
This tool's objective is to develop a new system for integrative data management (acquisition, storage, supervision, edition and visualisation), applied to underground works' monitoring and their effects on urban environments. The software is integrated in a web platform that can process, in real time, any type of data obtained by sensors and data loggers.
The main features of the web tool are: easy GIS browsing, customisable reports, reception and managing of warnings and alerts in mobile devices and tablets, direct visualisation of the different stages of construction and work progress, and data collection in an augmented-reality system.
One of the most innovative TUNNELDATA features is the advanced calculus module, which –using inclinometry algorithms- substantially improves inclinometer data treatment, their processing, visualisation and analysis.
Ultimately, TUNNELDATA is a tool conceived to aid engineers to quickly and precisely transform data acquired during monitoring campaigns, into readily accessible information which will allow them to obtain a constant knowledge of the safety of the work and its surroundings, in a clear and reliable way.
This project, which was satisfactorily concluded in 2015, was financed with the aid of the CDTI (Centro para el Desarrollo Tecnológico Industrial – Centre for Industrial Technological Development), through its PID program (Proyectos de Investigación y Desarrollo – Research and Development Projects) for applied entrepreneurial projects.