June 30, 2022, Barcelona, Spain |
OFITECO'S participation in the Conference on Dams and Integrated Water Resource Management
Held in Barcelona on 30 june, was attended by more than 90 people, 40 of whom attended in person.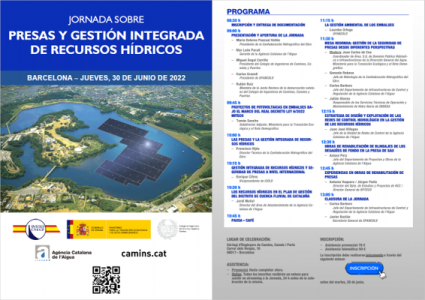 With the aim of addressing issues related to the safety of dams and the integral, environmental and sustainable control and management of water resources, the Conference on Dams and Integrated Water Resource Management, organised by Spancold, the Catalan Water Agency and the headquarters of the Professional Association of Civil Engineers was successfully held on 30 June. The conference consisted of eight presentations and a round table discussion orchestrated by a panel of experts in different subjects, and with the presentation of examples of experiences in dam replacement and safety improvement works.

The last presentation was given by Jürgen Fleitz (General Manager of OFITECO) and Antonio Vaquero (Director of the Department of Studies and Projects of HCC). Jürgen Fleitz presented concepts and examples of dam rehabilitation, highlighting its importance and the challenges it poses, and ending with a presentation of various projects in progress, including the Darnius-Boadella (Girona), La Llosa del Cavall (Lleida), Bornos (Cádiz), Béznar (Granada), Rules (Granada), La Concepción (Málaga) and La Baells (Barcelona) dams.