March 17, 2017, Marrakech, Morocco |
OFITECO was present in the International Conference and Exhibition Water Storage and Hydropower Development for Africa
The Africa 2017 International Conference on water storage and hydroelectric development was held during March the 14th and 16th in the town of Marrakech, Morocco.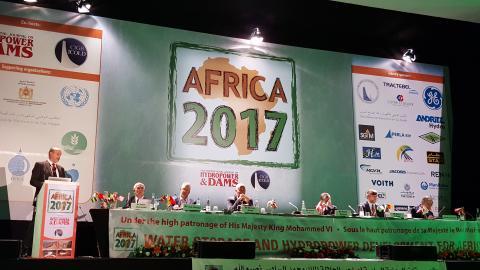 This international event brought together professionals from 67 different countries to discuss issues related to the development of hydropower and water projects in Africa. The organisation has been in charge of the international journal on "Hydropower & Dams", in partnership with the ICOLD International Committee of Large Dams. However, the "National Office of Electricity and Drinking Water" of the Moroccan government has also played an important role.
The conference developed a very comprehensive program, highlighting papers dedicated to the development of various water projects in Africa, where investments coexist in some of the largest hydroelectric projects on the planet, with projects of small dams for irrigation and supply in depressed rural areas. The program also included an interesting permanent exhibition of products and services offered by several of the most important companies of the dam and hydropower sector.
Among the sessions and workshops of greatest interest for OFITECO stands out the one dedicated to analysing the extreme phenomena of floods and the effects of climate change on natural disasters, with a strong focus on recovery capacity (resilience) after extraordinary events. Furthermore, some other sessions of interest were the one devoted to government intervention and management of multilateral projects in Africa, and the workshop on technical recommendations on dam safety and its legal framework, a matter that is still trending today and pending resolution in many countries in the world, including Spain.
This congress also offered a workshop specifically dedicated to small dams, ranging from the design phase to operation, as well as another interesting session focused on sediment management, since this subject is a great constraint related to the management of many reservoirs in Africa. A series of presentations devoted to Africa's experience in surveillance and monitoring of dams were also presented, which represent another essential pillar of dam safety management, one of OFITECO's core business.
Finally, a special presentation that shared first-hand information related to the spillway incident at Oroville dam was highlighted. This incident has served to remind the public and political leaders in many countries the importance of investing in maintenance, conservation and safety management of dams.